Beaches Habitat builds foundations for the future by building strenth, stability and community
Join us in our mission to build a new Community Center a OceanGate and expand our community to new properties.
Anyone can build a home. Beaches Habitat builds foundations for the future by building strength, stability, and community.
The next step in our important work includes expanding how and where we build community. We're asking for your help with work that we call Community Rising:
Build at Community Center at OceanGate: While Beaches Habitat is one of 1,500 U.S. affiliates of Habitat for Humanity International, it uniquely offers educational programs and scholarships to its families.
Buy, or receive gift of, land on which to build: Beaches Habitat bought the 7.2 acres OceanGate neighborhood site on Mayport Road in 2013 and began to build 70 new two- and three-bedroom townhomes. The work is nearly complete. Our next step is to find additional land where we can continue our work.
Please join us as we embark on the next step in our journey.
homeownership results in lower crime rates
(Alba, Logan and Bellair 1994; Glaeser and Sacerdote 1999; Rephann 1999)
we never have to move again
By the time her daughter was 14, Rachel moved her family seven times. The last place they lived was in an apartment with six other adults, four other children and a handful of cats and dogs.
It was chaos. Every day I felt as though I let my kids down. it was my job to provide them with a home. We had a roof over our heads but it wasn't a home. There was no privacy and we moved so many times we lost most of our personal belongings along the way.
The day Rachel got fed up with living with 13 others, she drove to the Beaches Habitat office to see what was possible. Once accepted, she had only one thought: We'll never have to move again.
Rachel developed a deep respect for the hard work on the construction site and developed new skills painting and caulking. A self-employed housekeeper, she pressed her skills into action cleaning up the job site in record time each day, amazing other volunteers.
We didn't have a lot to move in. On our first night, we slept on the floor enjoying each other's company and the peace in our new home. It was four days before Christmas. The kids were so excited about moving into their own rooms that they didn't mind that Santa brought just a couple of gifts, carefully placed under a tabletop tree from Walgreens. Living here means our money goes a lot farther these days, so next Christmas will be better.
I've been given a second chance to model behavior for my kids. I'm taking advantage of that chance by showing them that hard work pays off and we're all stronger than we think we are. I think they look at me differently these days and that makes me proud.
Building foundations that give people hope.
In 2016, the median rent in Duval County was $1,157.
The minimum wage in Florida is $8.10 an hours.
This means that a person working a minimum wage job living int he county would need to work 143 hours a month, or 90 person of normal monthly working hours, just to pay the rend. This would leave about $136 a month for food, child care, medical bills, transportation and clothing.
The math obviously doesn't work, so families faced with this prospect seek out more affordable housing. This most often means substandard, unmaintained housing in unsafe neighborhoods with no protection from rent amounts that can skyrocket in the future.
It can also mean traveling long distances to a job using unreliable personal transportation or public transportation, no place for children to play outdoors, no sense of community among neighbors, and frequent moves to ensure the family budget can continue to meat all needs.
When a family turns to us, it marks the beginning of a building a foundation for their futures. And, it starts our life-long commitment to them.
when children grow up in homes that are owned, they are
better educated
and well-adjusted
(Haurin, Parcel and Haurin 2001; Harness
and Newman 2001)
a dream comes true
Every day I drove past OceanGate for work. And every day I dreamed that one day I'd live in a place like that.
The townhouse where Lawrence, a widowed Dad, was raising his two daughters was "miserable." The rent kept going up, the development wasn't well maintained, there was a revolving door of neighbors.
It all added up to a bad scene. I worried about the girls every day. That's no way to live.
One day, instead of driving by, Lawrence stopped into the Beaches Habitat office to learn more. It was a turning point in his life.
I knew people who didn't believe I would qualify. They'd say negative stuff. I ignored them because I believe.
Lawrence qualified and he and his 18-year-old daughter started putting in their volunteer hours, building their home and meeting their neighbors and new friends. The family moved in around Thanksgiving 2016.
If still feels like a dream. Even tonight when I got home from work, I just stood in the doorway in awe. The girls love our new home and our new neighborhood. We all do.
The program is beyond a blessing. If you stay focused, believe and do the hard work, you can achieve the goal you set out to.
As a homeowner, you walk a different walk with your head held high because you had a dream and you worked hard to make it real. Now, as a homeowner, I'm living the American dream.
Building strength
Habitat for Humanity is a hand-up, not a hand-out. Each qualifying family is required to work alongside other volunteers to help build their homes, and their neighbors homes, building a differentiated sense of community from the start.
Our Build Programs include:
Women Build

that promotes the involvement of women in the construction of Habitat homes. These female work crews help each other learn about construction and empower women to make a real difference in their communities
Interfaith Build

, a partnership of several church congregations coming together to fully fund and build a Habitat home for a local family
Our alternative school break program,

Collegiate Challenge

, gives students from across the U.S. the opportunity to work with affiliate they choose
After a family is accepted in the program, they participate in workshops designed to prepare them for homeownership, including:
Financial literacy, including budget and finance and understanding closing documents
How to be a good neighbor
Home maintenance, including plumbing, lawn
Energy conservation and waste reduction
How to make your home beautiful on a budget
homeownership drives higher property values
(Rohe and Stewart 1996; Coulson, Hwang and Imai 2002 and 2003)
believe
I'm a 23-year-old back, single Mom of 5 kids. Of course people doubt me and don't believe in me. But my grandfather taught me to believe in God and myself.
As a Certified Nursing Assistant, Le'Neshia makes a good living but raising five children is a budget challenge for people earning twice as much money.
When a family member told her about Beaches Habitat, she did some research and made an appointment to learn more.
While I believed in myself, I knew I'd need help in building a future for my kids that included a safe, secure home and college educations. I found that help right here.
Moving day is a few months away and Le'Neshia is busy on the construction site, building walls for homes and meeting her new friends and neighbors. She dreams of move-in day when she and her children can escape public housing where she feels her family's safety is at risk every day.
The first thing I'll carry into our new home is my grandfather's photograph. when I put it up, there'll be a celebration. We made it. We made it.
Building stability
All Habitat affiliates build homes and revitalize neighborhoods.
Through strong local ties, Beaches Habitat is uniquely able to build more stable futures through unmatched education opportunities for our families:
Scheidel Scholarship

to:

University of North Florida
Florida State College at Jacksonville
Prep Club

(Kindergarten through 12th grade), a college prep program which provides monetary awards for good grade and perfect attendance. Since 2014, this program reports a 98% high school graduation rate
After-school programs

provide tutoring and homework help along with enrichment activities such as book clubs, financial literacy, gardening, drama, and art projects
Congressional Award

recognizes youth 14-24 for community service, personal development, physical fitness and expeditions. 18 students have received congressional medals
Take Stock in Children

, a program in which students grade 7-9 are matched with a mentor who meets with them in school each week; participants also benefit from guidance from a student success coach
Generation WOW

, a unique opportunity for high school girls, the leaders of tomorrow to meet with women leaders of today
As a result of these programs, to date 40 Habitat family members have graduated college.
homeownership results in more civic-minded neighbors
(Rohe and Stewart 1996; DiPasquale and
Glaeser 1999; Rohe, Van Zandt and
McCarthy 2002)
changing can't to can
Working full-time, Denise was doing everything she could to provide a home for her daughter Georgiana. born in Kingston, Jamaica, the divorced mom moved to Jacksonville in 2014.
In Jamaica at 15 years old, Denise helped raise her two sisters and brother after her parents divorced and her mother moved to England. She was no stranger to hard work and knew that the home she was providing for Georgiana lacked safety and security but didn't know what she could do to change it.
Then she learned about Beaches Habitat and about herself.
I'm stronger than I thought I was; now there are no limits for me. This isn't just about a house. It's about learning and doing. It's about gaining confidence. and it's about a home and a future. I thank God for everything I've learned and for our new home and neighborhood.
In learning about herself, Denise inspired others who grew tired from the physical labor required to fulfill volunteer hours on the job site. This helped Georgiana learn through the process, too.
My daughter learned that if you work hard, if you persevere, there can be a reward, but you need to work for it. You need to have passion, to be motivated, to keep you eye on the goal.
Today, Georgiana has earned her Black Belt in Tae Kwon Do and she has dreams of becoming a Judge. She now keeps her eye on that goal as she participated in Beaches Habitat Prep Club and is working to earn a Scheidel college scholarship.
About OceanGate
Bought by Beaches Habitat in 2013, the property was originally build with rental apartment buildings that were condemned in 2005. The attractive two-and three-bedroom townhouses that are being built through the Beaches Habitat program are being sold to each qualified, accepted family.
The neighborhood is made of two, three and four-unit buildings and features scenic corridor landscaping and a large recreation area.
The next goal at OceanGate is the building of the new Community Center.
Beaches Habitat expects OceanGate to be completed and fully occupied by first quarter 2019.
moving to a better neighborhood improves long term health and happiness 
(Ludwig, Duncan, Gennetian, Katz, Kessler, and Sanbonmatsu 2014)
building a foundation for generations to come
For Robin, a simple trip to the grocery store with her son, T.J., and daughter Amber, was the cause of overwhelming stress.
Instead of focusing on healthy choices, I was worried about being able to afford what we needed. Will I have to put something back because I don't have enough money?
The divorced single Mom, a Wisconsin native raised in Jacksonville, works as a VPK Child Care Teacher and rented a 3 bedroom, 1 bath home for 15 years. While the rent went up each year, the landlord's attentiveness to the home went down. This added to the stress the entire family felt.
I had two young kids, a yard to keep up and a full-time job. On top of that, the landlord didn't do the routine maintenance that the house needed. The kids were embarrassed to have friends over. This meant that they didn't enjoy the same experiences their friends did and it gave them stress that, as children, they shouldn't have.
Robin's sister told her about Beaches Habitat and that led to a life-changing turnaround.
Thinking about the volunteer requirements was a little daunting. But once I got on the job site, met new friends and neighbors and knew that the wall I was building was mine, it was a feeling I never experienced before. Suddenly I was empowered and accomplished.
Through tears of joy, Robin shares how restful her family's first night in their new home was. The hard work paid off, the dream was achieved.
I feel like we can breathe for the first time in a long time.
Sleep overs and family celebrations are a routine part of life now, as is sharing a cup of coffee with neighbors on the front porch.
Life can still be stressful at times, but our stress is the healthy kind. It's about grades in school and about our future. We're focused on the right things.
Some people think this experience is life changing. For us, it's changed us and our family's future generations. My daughter is focused on college and T.J. can't wait until he's old enough to help others build their homes. When they have families, they will take this experience forward with them.
Three years ago, none of this was possible. Now, anything is.
Building - and expanding - community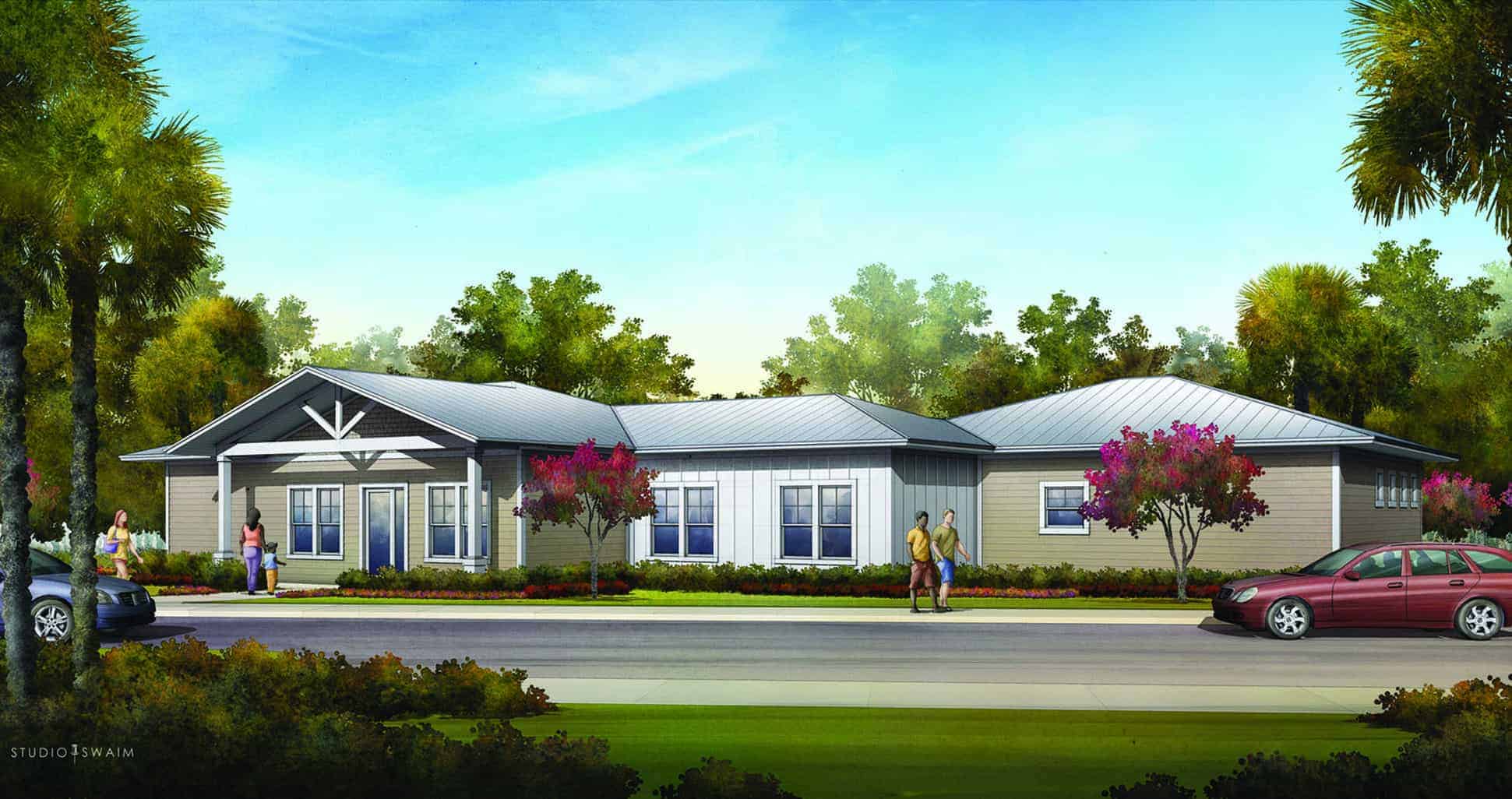 Is starts with sharing basic common housing needs.
It grows to swinging a hammer to raise your home's walls - and your neighbors' walls, too. You learn how to fix a leaky faucet together. You share insights about the loan closing experience. Admire each other's front door keys. Attend ribbon cuttings. Help each other decorated while watching the kids play. Visit on the front porch. Light candles on birthday cakes. Breathe, knowing that you finally live in a place you can call home and you all have an opportunity to earn an education that might not otherwise have been possible.
Community is build on the job site, in homes, and on the sidewalks and playgrounds. Community is also built in a center that families can call their own. A hub of activity, a "home base" that hosts programs designed to raise the quality of life for all homeowners and family members.
homes owned by their occupants are often better maintained
(Mayer 1981)
peace for a Dad and his daughter
As a divorced father of a teenage daughter, it was beyond embarrassing to bring Sierra to his broken-down singlewide trailer for weekend visits. Faulty plumbing, electrical and appliances in a run-down trailer with bowing floors was not the environment Todd wanted for himself, never mind his daughter. But, it was all he could afford. And, the rent payments were always going up, so he could just barely afford it.
Working in lawn maintenance, rent ate up a lot of his income. As a result, worrying about paying the bills ate up a lot of his time.
When he found out he was qualified for the Beaches Habitat program, he was ecstatic. Because of his long work hours, he did his volunteer hours on Saturdays.
People who I didn't know would come up to me on the job site and ask if they could do volunteer hours for me. This restored my faith in people. I thank God every day for this experience. Through it we have a new, well-built, safe home in a neighborhood surrounded by love and Sierra has the promise of a college education.
Thinking about the experience causes Todd to become overcome with emotion.
These are tears of joy and hope. I pinch myself every day to prove that this is real. Now, when Sierra comes to visit, it's like a vacation for her. She has a big room with a big bed and a PC. It's a respite for her. It provides her peace and privacy and it means the world to her and to me.
Community Center at OceanGate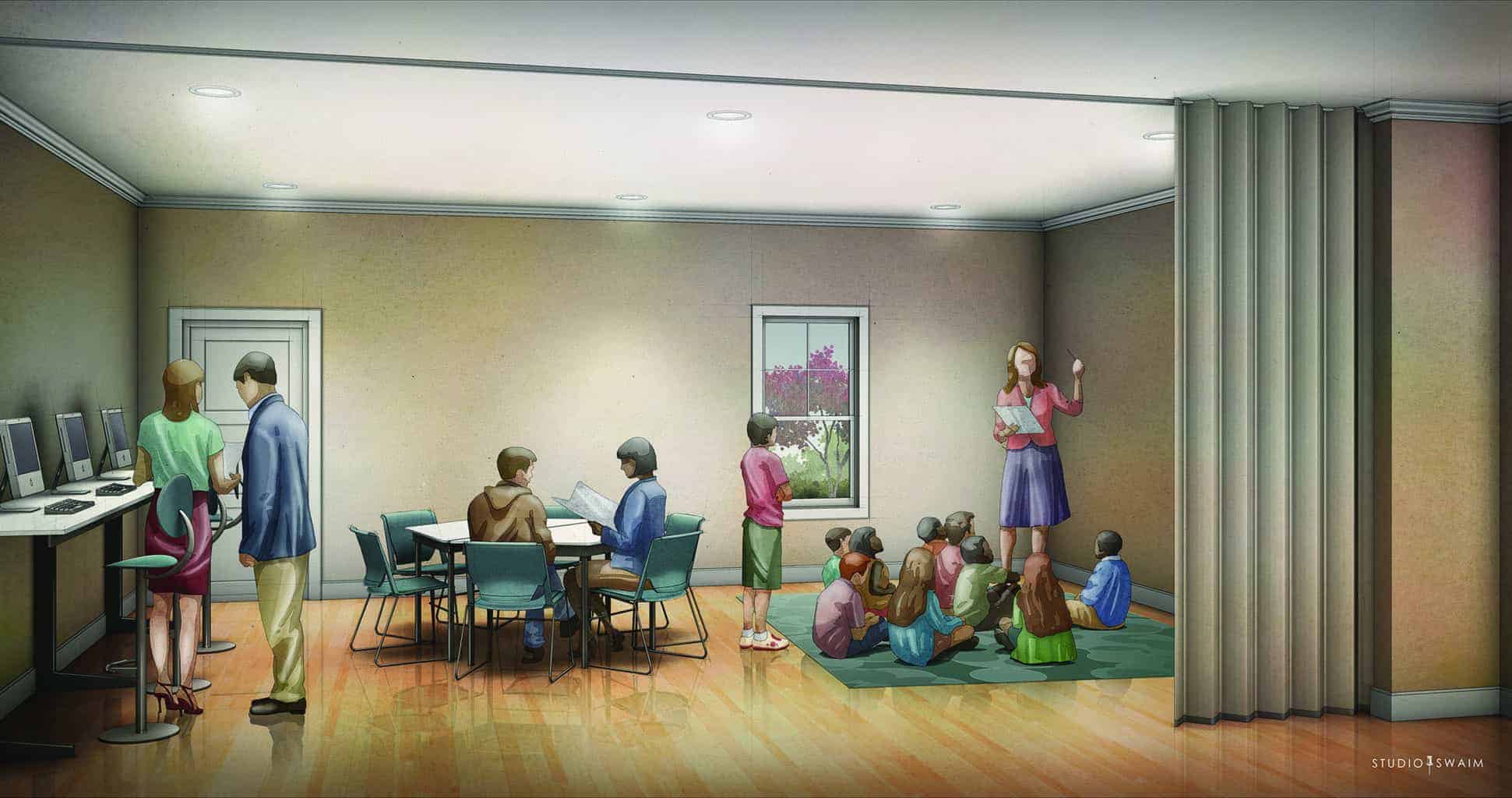 Our goal is to build a new Community Center at OceanGate where we can host even more programs that help to build strength and independence, including:
Early childhood literacy
College and career training
One-on-one tutoring for all students
"Voice of Women," a Habitat for Humanity International program designed to build women's leadership skills they can leverage to change their neighborhoods and communities. The course encourages active civic, political, educational and social engagement.
And, our goal is to expand the communities we build to new properties.
To fulfill our goal and our families' dreams, Beaches Habitat needs $3 million to:
Design and build a state-of-the-art Community Center in our OceanGate community, and
Create a "land bank" for future Habitat homes
affordable housing development helps local economies grow
(Wardrip, Williams and Hague 2011)
where there's a will, there's a way
Undergoing dozens of surgeries since age 6 as a result of a brain cancer, and later, a skin cancer, diagnosis would make for a difficult life by anyone's measure. Add to that growing up in four different U.S. states. That's Jami's story.
So it's no surprise what she wants for her children: Health, security and stability.
When she learned about Beaches Habitat, she was excited, but she knew she couldn't do the physical labor on the job site. That didn't stop her from pursuing the dreams she has for her family.
And, Beaches Habitat supported her in her dreams.
They shared the dream I have for my family and worked with me to figure out what I could do at the job site. To make up for hours I can't do there, I volunteer at my son's school and those hours count toward my total.
Jami will be in her home in a couple of months and, until then, is living with her children in an area motel.
I'm already thinking about how I'll feel when I get my front door key. I'll probably cry a lot with joy and relief. And, I'm going to make homemade cinnamon rolls for our first breakfast together. We'll build a family tree on the living room wall and I'll finally be able to bring all of our things out of storage to help make the kids' room their own.
With the goal of a safe home accomplished, what's next?
My next dream is to help my kids get scholarships for college and watching them grow to be responsible, successful adults. With Beaches Habitat, we'll make that dream another reality.
Would you like to be a part of making families' dreams come true and expanding what they thought possible in their lives?
Here's how you can help.
Community Center
Monetary donations of any size.
Building materials
Land Bank
Monetary donations of any size.
Help us identify suitable land
Donations of unused land
For more information call (904) 241-1222.
Donations of cash, including gifts from IRA's, and gifts of stock will be gratefully accepted.