Throughout its history, Beaches Habitat has built and improved single-family homes in both stand-alone and attached housing structures. Through a national effort to have the greatest community impact, Habitat is focusing its efforts on lifting up entire neighborhoods. To that end, Beaches Habitat has successfully designed and planned developments including Haywood Estates, Scheidel Court and Huang Villas, all located in the Atlantic Beach /Mayport area of the beaches.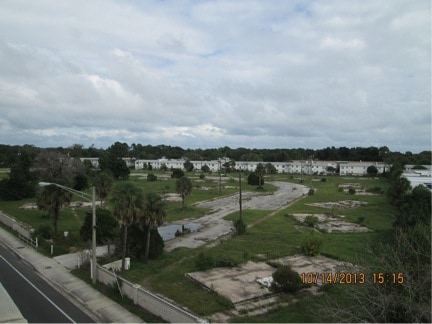 In September 2013, Beaches Habitat acquired approximately 7.2 acres of blighted, foreclosed property located on the east side of Mayport Road, just north of the intersection of Atlantic Boulevard. The property, which was for several years The Palms Apartments, had been vacant for approximately 10 years when it was condemned and the 24 buildings were razed. Only overgrowth, concrete slabs, broken walls, and cracked pavements remained.
The site sits at the gateway to the Mayport Road corridor leading to NAS Mayport, the historic Mayport fishing village, and the Mayport Ferry, a tourist attraction connecting the Jacksonville Beaches barrier island to the north shore of the St. Johns River, Amelia Island and Fernandina Beach, FL … all along historic A1A.
This project preserves property that will provide 70 fee-simple homes to qualified families in a highly competitive and restrictive beaches real estate market. The development will include attached duplex, triplex and quadruplex homes that will be conveyed fee-simple to each homeowner. A homeowners' association will serve the interests of the community. Additionally, Beaches Habitat will ensure measures are in place for upkeep and maintenance of individual homeowner properties.
The homes will be arranged in a traditional neighborhood design with rear lane/alley access and buildings fronting on the Mayport corridor or the main loop road with the community park. All homes will feature front porches and sidewalks that lead one through the neighborhood and on to Mayport Road, creating a walkable community. The property has access to public transportation and is within a walk or bike ride to both the Atlantic Ocean and the Intracoastal Waterway.
This development will be the keystone for Beaches Habitat's holistic approach to uplifting families and communities in need, by providing access to affordable housing and to the educational programs that Beaches Habitat offers to all members of a homeowner's family.