Habitat Ready: Hurricane Preparedness
Atlantic Hurricane Season is June 1 – November 30
The experts are calling for another above-normal Atlantic hurricane season. Now is the time to begin preparing for the dangers that these storms can bring.
Hurricanes can produce many destructive hazards, such as high winds, heavy rainfall, storm surge, coastal and inland flooding, rip currents, and tornadoes. However, storm surge is historically the leading cause of hurricane-related deaths in the United States. Planning ahead and being prepared can help you and your family to stay safe during an emergency and protect your home.
Make sure you're disaster ready with the checklist below.
Know Your Hurricane Risk
Hurricanes are not just a coastal problem. Their impacts can be felt hundreds of miles inland, and significant impacts can occur even when the hurricane is not major.
Be on alert when bad weather is in your area. Rain, wind, water and even tornadoes could happen far inland from where a hurricane or tropical storm makes landfall.
Make an Emergency Plan
Make sure everyone in your household knows and understands your hurricane plan. Your family may not be together if a disaster strikes, so it is important to know how you'll contact one another and reconnect if separated. Establish a family meeting place that's familiar and easy to find.
Know your Evacuation Zone
You may have to evacuate quickly due to a hurricane if you live in an evacuation zone. Because of the unique interaction of river systems with the Atlantic Ocean, Duval County evacuation zones are more complex than those in most counties. Evacuation zones are based on a lettering system, with A, B, C, D, E and F Zones.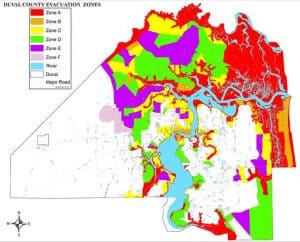 Find your evacuation zone by address: http://maps.coj.net/evsearch/
If authorities advise or order you to evacuate, grab your "go bag" and leave immediately. If you are not in a mandatory evacuation zone, you may still decide to leave the area. However, if you decide to stay, remember that even if the high winds and floodwaters do not reach your home, you may lose power and water and you may not be able to leave your home for several days if the roads are impassable.
Click to Download the Jax Ready mobile app Jacksonville's local emergency preparedness app.
Recognize Warnings and Alerts
The National Weather Service issues an alert when weather conditions make hurricanes more likely. Know the terms used to describe changing hurricane conditions and be prepared to take the appropriate actions.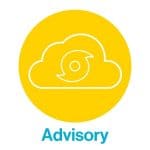 Advisory: Tropical Storm or Hurricane Advisory—The National Weather Service (NWA) issues an Advisory when it expects conditions to cause significant inconveniences that may be hazardous. If caution is used, these situations should not be life-threatening.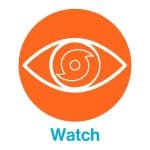 Watch: Tropical Storm or Hurricane Watch– The NWS issues a Watch when a tropical storm or hurricane is possible within 48 hours. Tune in to NOAA Weather Radio All Hazards, local radio, TV, or other news sources to stay informed. Monitor alerts, check your emergency supplies, and gather any items you may need if you lose power.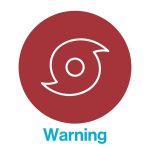 Warning: Tropical Storm or Hurricane Warning – The NWS issues a Warning when it expects a tropical storm or hurricane within 36 hours. During a Warning, complete your storm preparations and immediately leave the threatened area if directed to do so by local officials.
Those with Disabilities
After a disaster, access to a medical facility or drugstore could vary. It's crucial to plan for your regular needs and know what you would do if they become limited or unavailable.
Here are a few additional items you might consider including in your emergency kit: https://www.ready.gov/disability
Review Important Documents
Make sure your insurance policies and personal documents like ID are up to date. It is a good practice to make copies and keep them in a secure password-protected digital space. People at all income levels have experienced the challenges of rebuilding their lives after a disaster strikes. In these stressful times, having access to personal financial, insurance, medical and other records is crucial for starting the recovery process quickly and efficiently.
Strengthen your financial preparedness for disasters and emergencies with this tool kit: Emergency Financial First Aid Tool Kit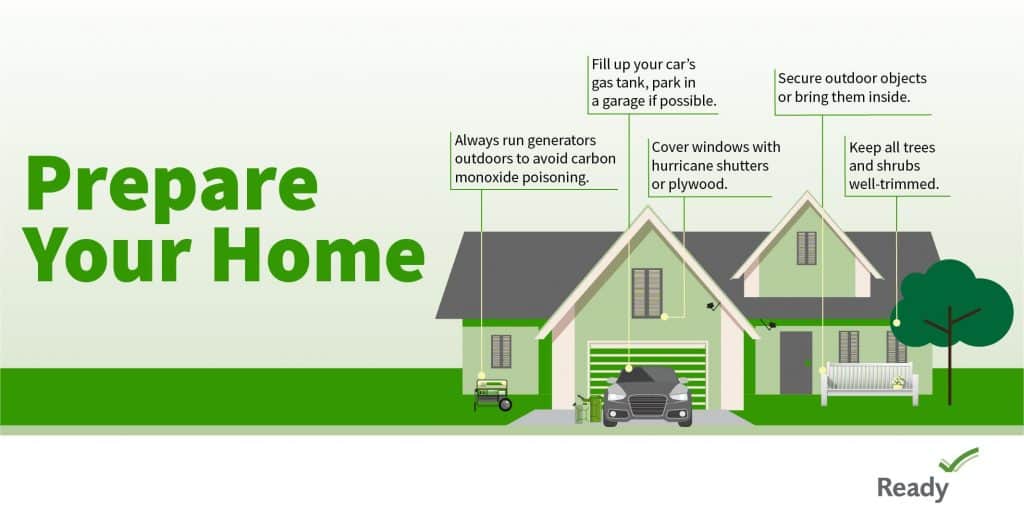 Prepare your Home
Take the steps outlined below to keep you and your family safe while protecting your home and property. If you are a renter, talk with your landlord or property manager about the steps you can take together to protect yourself, your family, your home, and your property.
Cover windows. If storm shutters are unavailable, use 5/8-inch exterior-grade or marine plywood cut to fit each window. Use screws to attach them.
Trim trees and shrubs around your home so that they are more wind-resistant.
Clear loose and clogged rain gutters and downspouts.
Reinforce garage doors so the wind doesn't enter and cause structural damage.
Bring in loose, lightweight outdoor objects (e.g., patio furniture, garbage cans, and bicycles); anchor objects that would be unsafe to bring inside (e.g., gas grills and propane tanks).
Get Tech Ready
Technology has made it easier than ever to prepare for emergencies, but it can be unreliable in an emergency if you haven't kept your gadgets protected and powered up. Keep your cell phone charged when you know a hurricane is in the forecast and purchase backup charging devices to power electronics.
It is best to use text messages, social media and email to connect with friends and family during emergencies. Mobile networks can become overwhelmed, making it hard to make and get phone calls.
By keeping a portable phone charger in your car at all times and having an additional emergency charging option for your phone and other mobile devices you can extend your battery life.
When your backup battery life is low, you can conserve energy by changing the settings on your devices to low power mode or place them on airplane mode.
Help your Neighborhood
Check with neighbors, senior adults or those who may need additional help securing hurricane plans to see how you can be of assistance to others.
Gather Supplies
Have enough supplies for your household, include medication, disinfectant supplies, masks and pet supplies in your go-bag or car trunk. After a hurricane, you may not have access to these supplies for days or even weeks.
Making essential purchases and slowly building up supplies in advance will allow for longer time periods between shopping trips. This also helps to protect those who are unable to procure essentials beforehand and must shop more frequently. Only take the items you and your family may need so that others who rely on these products can also access them. Do not panic purchase.
A basic emergency supply kit could include the following recommended items:
Water (one gallon per person per day for several days, drinking and sanitation)
Food (at least a three-day supply of non-perishable food)
Battery power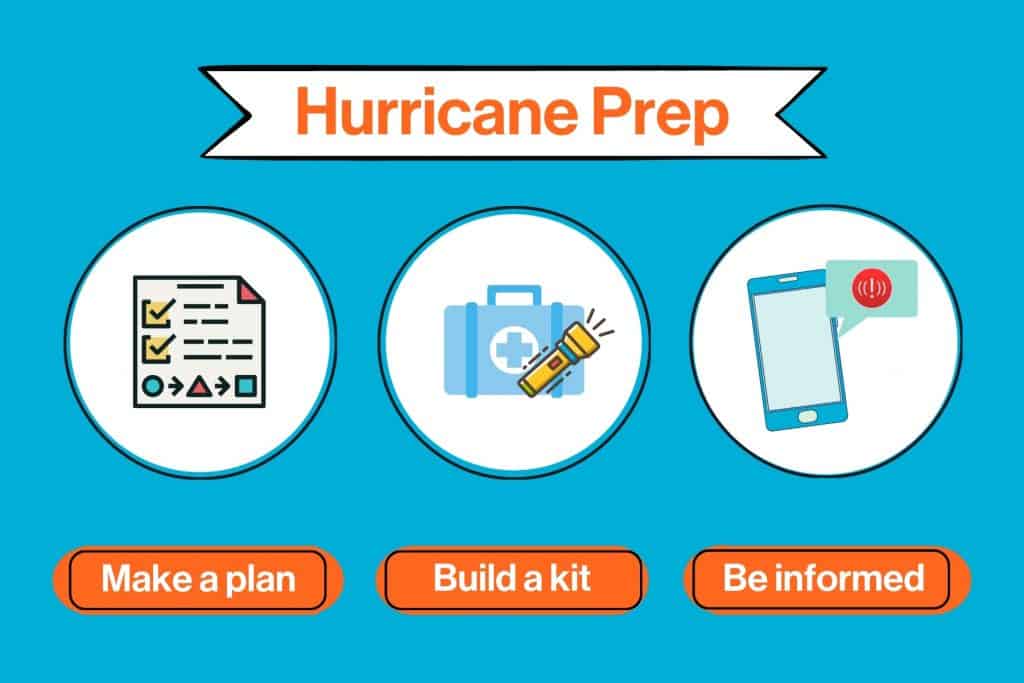 After the Storm: Tips to Stay Safe
If you've evacuated the area, wait for public officials to say it is safe before returning. Once it is safe to return home and begin cleanup, keep these safety tips in mind:
Do not wade in floodwaters. Stormwater can contain dangerous debris like broken glass, metal, dead animals, sewage, gasoline, oil, and downed power lines.
Do not enter a building until it has been inspected. Damage to the electrical system, gas lines, septic system and water lines or wells could have occurred. Wear appropriate protective equipment such as gloves, safety glasses, rubber boots, and masks to protect you from debris and airborne particles like mold and dust
Do not use electrical equipment if it is wet or if you are standing in water.
Throw out any food including canned items that were not maintained at a proper temperature or have been exposed to floodwaters. Do not eat food from a flooded garden. When in doubt, throw it out.
Avoid drinking tap water. Until you know it is safe, boil or purify first before consuming water from the tap.
Clean and disinfect everything that got wet. Mud left from floodwater can contain sewage, bacteria, and chemicals.
5 Steps for Post-Hurricane Clean-up
Air Out by opening all doors and windows whenever you are present. Leave as many windows open when you are not present as security concerns allow.
Move Out saturated porous materials such as mattresses or upholstered items, especially those with visible fungal growth.
Tear Out flooring, paneling, drywall, insulation, and electrical outlets saturated by floodwater.
Clean Out and disinfect any remaining debris and mud.
Dry Out the building and any remaining contents.
Resources: