We believe that every child needs a place to call home, a place where they can play and dream and plan for their future.
Jaylen, Aveion, and Faith were Zoie Kohn's motivation to apply at Beaches Habitat for Humanity. Zoie's three children had no space and no privacy in the two-bedroom apartment she rented before purchasing her Beaches Habitat home.
A native of the beaches and a Fletcher High School graduate, Zoie struggled to provide a home for her children in the area where she grew up. "I've always found the beaches area had its own personality and charm that I loved. I wanted my children to grow up and go to the same schools I did when I was younger."
Unfortunately, skyrocketing rents made staying at the beach a challenge for Zoie. And she dreamed of owning her own place.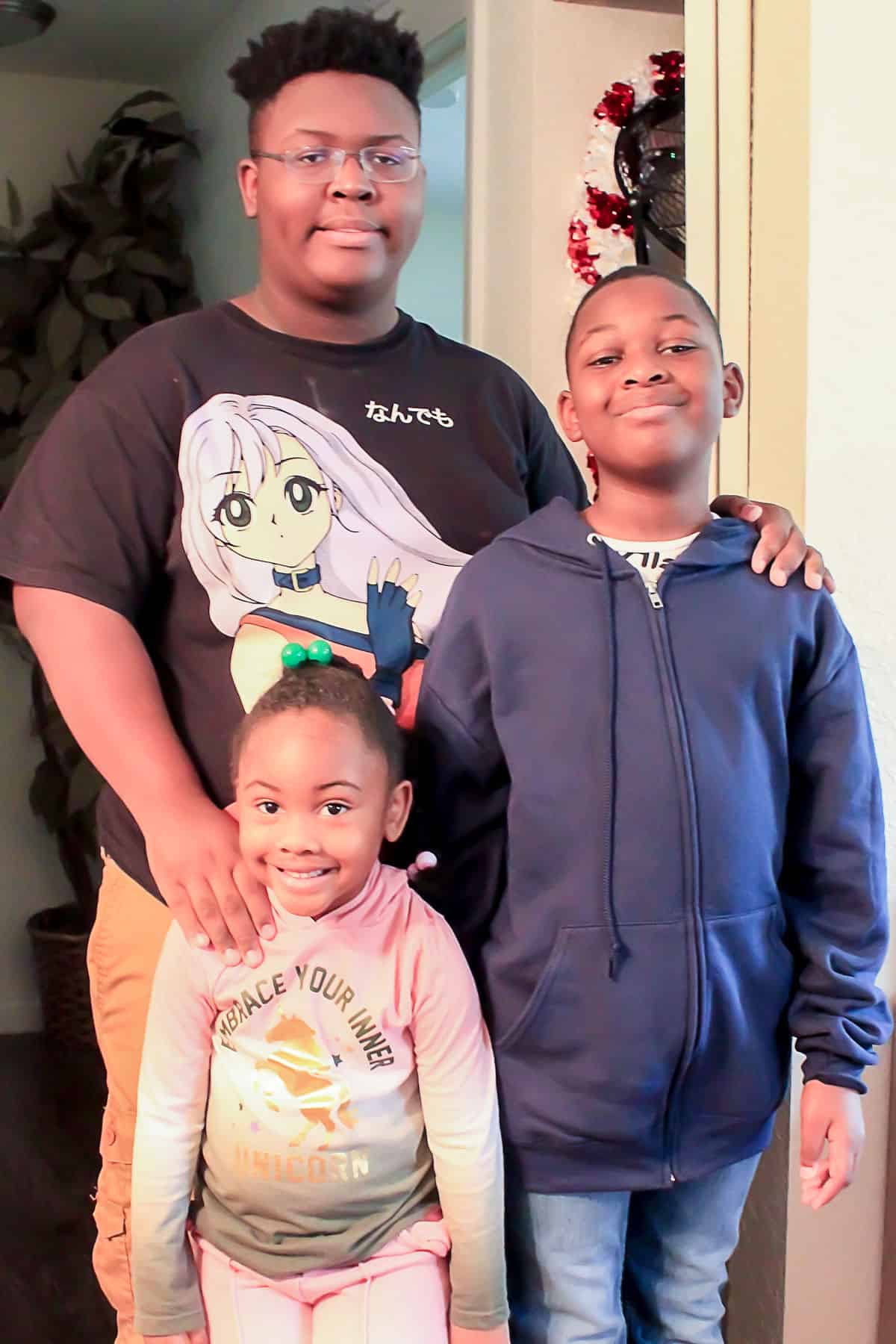 "I was determined to become a first-time homeowner!"
One day, while on a break at work, Zoie decided it was time to make a change and she called the Beaches Habitat office to find out about homeownership opportunities. Within a week, she had gathered all the documents and completed all the paperwork to apply for the program. "I was determined to become a first-time homeowner!"
After months of working hard, serving hundreds of volunteer "sweat equity" hours on the construction site and attending workshops to help her prepare for owning a home, Zoie signed her mortgage paperwork in June of 2019.
Zoie and her kids settled into their new house and quickly began making it a home. Each child chose the decor for their own room - a first for them since they had never had their own space before! It was Minnie Mouse for Faith, Super Mario Brothers for Aveion, and simple, solid colors for Jaylen.
Zoie loves that there are so many parks nearby, as well as the community center up the street, where her children have a safe place to go after school. She also feels a strong sense of community in the neighborhood. The whole family feels welcomed and protected by their neighbors, who have offered them one kindness after another since moving in. "It's like a village."
"[Our neighborhood] is like a village."
In the midst of this happy adjustment, Zoie received some terrible news. Her employer was having financial trouble and Zoie was laid off. If she had still been renting her apartment, Zoie would have been in dire straits. Thankfully, she was a homeowner now and her affordable mortgage made it possible for Zoie to continue making payments during her six-month job search. "I feel secure, way more secure."
Now in a new position with Baptist Health, Zoie is grateful for the security that her Beaches Habitat home has provided her family. She appreciates that she doesn't have to worry about payments going up like she did when renting. Zoie plans to stay in the house as long as she can, eventually leaving it to her children. "I'll be here until I can't be here anymore. I love my house."
"I feel secure, way more secure."
This holiday season, for 1 in 5 households in the Jacksonville Beaches, the cost of their home is more than half of their income.
A job loss or other life change could be catastrophic for these families.
With your support, more of these families could have the same security as Zoie, with an affordable mortgage payment.
Will you donate to Beaches Habitat for Humanity before 2020 ends?
Your support and generosity have given the gift of hope and a home for the holidays to hundreds of Beaches families over the past 30 years. With your help, more families will experience the joy of the holidays in their very own home in the years to come.
For the 17th year in a row, the family of Sandy Forsyth, founder of Aqua East Surf Shop, has generously pledged to match every dollar donated during the holiday season up to $20,000. That means every $1 you donate is worth $2 to Beaches Habitat and your contribution will have an even greater impact. Please help us meet and exceed this match with your gift.
Every gift made during the holiday season will be doubled.
Interested in Longer Term or More Tangible Ways to Give Back this Holiday?