Collegiate Challenge: Week 1
Spring break for most college students means sunbathing on a beach or going home to see their family. However, there are some special individuals who choose to spend their week off from studying serving. For three weeks this spring, Beaches Habitat is grateful to host some of those special people. From March 2nd to 6th, students from Siena Heights and Mount St. Mary's Universities traded their textbooks for hammer and saws, to build affordable homes in Haywood Estates II.
Two Colleges: One Mission
Collegiate Challenge is an alternative spring break program for high school and college students through Habitat for Humanity International. Students dedicate their week off to helping build homes. No experience is needed, just a group of friends, a positive attitude, and a willingness to serve.
Mount St. Mary's University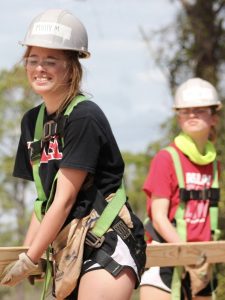 Mount St. Mary's is a Catholic liberal arts university in Maryland. Eight volunteers participated in Collegiate Challenge this year, continuing nearly 2 decades of partnership between the Social Justice program at Mount St. Mary's and Beaches Habitat. The student volunteers fundraise to pay for their travel expenses and drive the long way to Florida.
The dedicated students serve their community in their college town of Emmitsburg, MD as well. In particular, they volunteer regularly for an organization called Seton Center, taking care of the elderly in the community. They mow lawns, do chores, and help at the Seton Family Store, a thrift and consignment store benefiting their Outreach clients.
Siena Heights University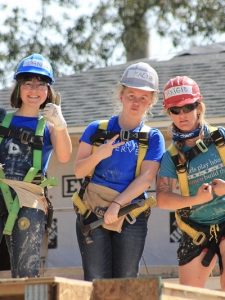 Siena Heights is a Catholic liberal arts university in Adrian, MI with a Habitat for Humanity campus. The students strive to be involved in their community, volunteering at the Restore and construction projects with Habitat for Humanity of Lenawee County. Ten students and two advisors came to serve with Beaches Habitat this year. They raised funds at a bake sale and received other funding support to make the trip to Atlantic Beach.
Dani, the chapter leader, was very excited to have a more diverse group participating this year, including two international exchange students.
A Learning Experience
The students had a great time serving and enjoyed learning about construction. We asked a few of them to share their favorite part of volunteering at Beaches Habitat:
Collete and Linsey loved "Putting in windows, that was my favorite!"

Andy and Aline both agreed that their most exciting activity was shingling the roof.

Emma explained "I loved landscaping because I have never done that before! Putting down sod was something I really enjoyed as well."
Thank you
Collegiate Challenge would not be possible without support from our community. Meals and housing for the students are donated by local organizations. This week, Community Presbyterian Church, Isle of Faith United Methodist Church and Beaches Habitat's Education program each continued a long history of support for Collegiate Challenge at Beaches Habitat. We are so grateful to all our participants for helping to build strength and stability alongside future homeowners!