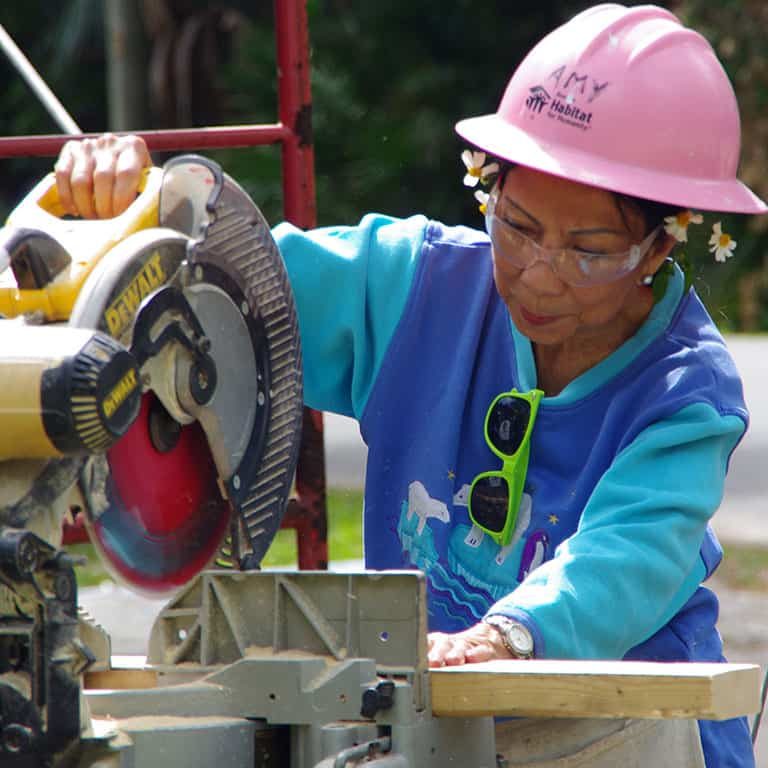 Strong women
build strong communities.
Women Build is a unique opportunity for women to join together to help a local family build their dream of homeownership.
Build together, grow together, and invest in the local community. Women Build brings together women from all walks of life to address the housing crisis in our community. Working together alongside other women and the family who will buy the home, you will network, learn, and build a home that a local family in need of housing can afford.
What is Women Build?
Women Build is Habitat for Humanity's national initiative to encourage women to support our mission, with hundreds of Habitat organizations participating each year.
Women Build projects take different forms at each organization. Here at Beaches Habitat, the Women Build is a complete home project. Starting with the concrete slab, through the final trim work and landscaping, Women Build one whole house that a local family will purchase.
As a complete, start-to-finish home construction project, the Women Build at Beaches Habitat for Humanity is a flexible and ongoing opportunity to connect and learn.
Why Women Build?
It's no secret that many Beaches Habitat homebuyers are single mothers. Women lead the majority of single-parent households in the U.S. Whether divorced, widowed, or unmarried, single mothers often struggle to make ends meet due to lower wages and challenges with necessities like healthcare and childcare.
Women Build is women helping women to provide one of the most stabilizing forces in a child's life - a safe place to call home.
Who Can Participate?
Women Build is open to any woman over the age of 16 interested in helping their neighbors and community members build a decent, affordable place to live. Men are NOT excluded, but our goal is for at least 80% of the volunteers to be women.
While we encourage sponsorships to help defray the cost of construction, a financial contribution is not required to participate. Sponsors and donors will receive priority scheduling for all Women Build events.
Sponsor

Make a financial contribution to support the construction of a home for a qualified local family in need of affordable housing.

Grow

Network and connect with your team and other local women, learn new skills, and develop friendships - while helping a family achieve their dream of homeownership.

Build

Schedule a volunteer day with your team. Our friendly, knowledgeable staff will provide the tools, training, and equipment you need for a safe, productive day on the site.
Thank you to everyone who has contributed to the Women Build. With your help, we met the challenge of an anonymous donor, who has generously contributed $70,000 to match your contributions!
Funds Raised Towards Match




Atlantic Shores Realty of Jacksonville
CSX  |  Gina Chin Fatt  |  Paul Finley  |  Darlene Galla-Spechler  |  Megan E. and Pamela D. Quincy