Volunteer Spotlight: Haley Yackee
Beaches Habitat Young Professionals (HYP) is a group of motivated individuals committed to making a difference in their community by supporting Habitat's mission.
HYP helps families in need of affordable housing build strength, stability, and self-reliance through volunteer days, fundraising, education, and networking.
By getting involved with HYP, you'll have the opportunity to connect with other socially conscious Jaxsons, make a tangible impact, learn new skills, and of course, have fun!
We are thrilled to welcome Haley Yackee as this year's HYP Treasurer! Let us introduce her: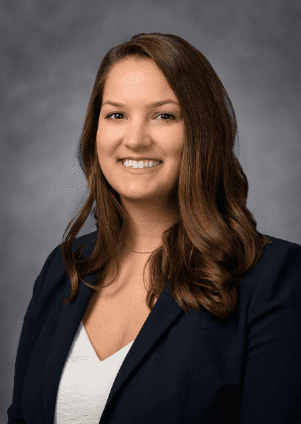 Name: Haley Yackee
Position with Habitat Young Professionals: HYP Treasurer
Current Employer: Coleman Talley, LLP
Hometown: Parkland, Florida
How long have you been in Duval? Since 2010
Educational Background: Bachelor's Degree in Finance and Financial Services from the University of North Florida, Juris Doctor Degree from Shepard Broad College of Law at Nova Southeastern University, and LLM in Taxation from the University of Florida.
How did you hear about HYP? From my friends, Marina Crutchfield and Liz Hunt.
What's your favorite thing about being a member? Meeting new people with similar interests in philanthropy and helping to create homes for those in need.
What do you enjoy most about volunteering? Knowing I am making a difference in someone's life. A home is a safe space that you are able to retreat to when the world becomes overwhelming. It's nice to know I am helping create this space for those who are unable to do so themselves.
Do you volunteer with any other organizations? Where and in what capacity? I used to volunteer at the YMCA teaching children tumbling/gymnastics. My sister and I grew up in gymnastics and so did my father.
How do you spend your time when you're not volunteering? I have two dogs so my husband and I like to go to nature preserves with them. We take them to Dutton or Atlantic Beach over the weekends.
What part of your role with Beaches HYP are you most looking forward to? Meeting new people in the community and interacting with others within Habitat for Humanity.
What advice or insight would you give someone considering joining HYP? Consider the skills you have to offer. If you enjoy outdoor work, have a knack for teaching, or just enjoy interacting with people, you may want to look for volunteer work that would incorporate these aspects of your personality.
So what are you waiting for? Join HYP!
If you want to learn more about Habitat Young Professionals, please contact us or talk to a Leadership Committee member at an upcoming event.
2022 Leadership
President – Jacob Wright
Vice President – Pete Havens
Treasurer – Haylee Yackee
Secretary – Marina Crutchfield
Volunteer Chair – Elizabeth Moore
Membership Chair – Matt Diamond
Communications Chair – Open
Social Media Chair – Open
Marketing Chair – Open
Special Events Chair – Jenn Schwenn
Advocacy Chair – Jonathan Falk