What it Takes to Build a Home with Habitat
Since 1991, local families have partnered with Beaches Habitat for Humanity to build or repair an affordable place to call home. In the last 30 years, we've adapted our programs to meet the current circumstances. Through changing times, we've always kept to the mission:
Seeking to put God's love into action, Beaches Habitat for Humanity brings people together to build homes, community, and hope.
Our mission is clear, but how exactly do we carry it out?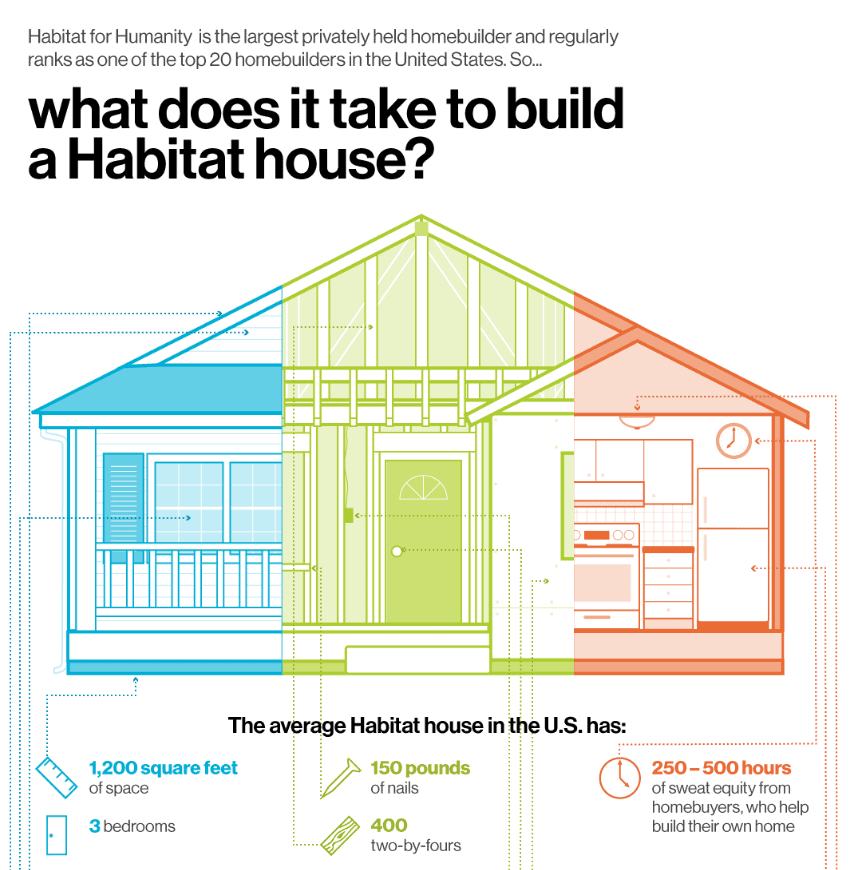 Land Development

In the Beaches community, buildable land is growing scarce. At Beaches Habitat, we rely on the support of our Board's Land and Construction committee to help identify land that's available for development. In the past, we've been blessed to have the opportunity to purchase property at a discounted price, and sometimes, generous owners will donate a parcel. In 2023, we'll break ground on a new community on Mayport Road that will be built on partially donated land.

Beaches Habitat also maintains strong relationships with local government, city officials, and developers in case new opportunities for construction arise.

Fundraise

Habitat for Humanity organizations use a concept called the "Fund for Humanity." It's the process of using the mortgage payments from current Habitat homeowners to help pay for future construction.

This model works; however, as costs rise and the need for homes grows, Beaches Habitat needs additional revenue sources to continue building.

We've put fundraising as step two, but it's really an ongoing process, and everyone can be a part of it. From making a small one-time donation to attending an event to sponsoring a home, the generosity of people, organizations, and businesses all come together to make Beaches Habitat construction possible.

Research, Plan, and Approve

Once we've acquired land, Beaches Habitat must determine the best way to develop it. We first assess the property to determine the appropriate density for home construction. Our projects have ranged in size from stand-alone single-family homes up to 70 townhomes.

Once there's an idea of the project direction, Beaches Habitat teams up with local architects, engineers, and other consultants to begin creating plans for the project. These first plans are just a "rough sketch" of what the project will look like, and are the building block of what will become our final plans.

Whether in Jacksonville or Atlantic Beach, our next step is to seek approval from the appropriate city departments. That can include environmental impact studies, zoning changes, and forums for public discussions about Beaches Habitat's development. Once we've finalized our plans and the city has approved them, we can break ground!

Find a Homeowner

Beaches Habitat homeowners are selected from people who are already connected to our community because they live or work here. Potential candidates complete an application that our staff and volunteer Family Selection Committee review. Future homeowners are approved based on their need for affordable housing, ability to repay an affordable mortgage, and willingness to partner with Beaches Habitat by completing sweat equity.

Each future Beaches Habitat homeowner completes at least 300 hours of sweat equity, which can take many forms: building their home or a home for another family, assisting in administrative duties, or countless other ways of helping out. During this process, they also attend workshops to prepare them for homeownership, learning about their mortgage, insurance, maintenance, safety, and more.

Construct

Before pouring our standard concrete slabs, we level our site and remove all obstacles to prepare for our shovel-ready volunteers. Construction can take anywhere from four months to three years, depending on the project's scope.

Volunteers are the primary workforce, led by staff and AmeriCorps members who ensure that each task is done safely and correctly. We start by pouring the concrete and then begin building the home's "shell" -- the wood framing and sheathing of the walls and trusses. The "dry-in" phase is next, where we install the materials that will protect the home from the outside elements, particularly moisture.

We call in the pros after the house is "dried in" to start the plumbing, electrical, and HVAC systems. We rely on licensed professionals to ensure these critical elements are installed correctly and to code.

Once the shell is complete and protected, volunteers, AmeriCorps members, and staff will cover the exterior of our homes with fiber cement siding and asphalt roof shingles. Exterior painting is next on the list, and Beaches Habitat usually opts for colorful, vibrant homes to replicate the local beach aesthetic. Our latest project on Edgar Street is painted in a pastel green shade appropriately named "Sea Salt."

We sometimes have volunteers help install insulation and drywall, but these tasks are tricky. Because the insulation is a difficult-- not to mention itchy!-- material to work with, we often outsource this part of the process. Drywall usually gets outsourced, too, because pros can install it more efficiently.

What's left at this point are the things that will make the house look like a home -- interior painting, trim, fixtures, and landscaping. We rely on a mix of contractors and volunteers to finish these tasks and...

Ta-da! A beautiful house that a Beaches Habitat owner can be proud of.

Begin Life in an Affordable Home

The most critical step in our mission comes after the "dirty" work is done. When a homeowner has met the program requirements, and construction is complete, they make a downpayment, close on their mortgage, and receive their keys!

Once they've moved in, Beaches Habitat homeowners begin making affordable monthly mortgage payments. Those payments contribute to the "Fund for Humanity," which will be used to build future Beaches Habitat homes. Most importantly, the homeowners gain the peace of mind that comes with knowing you have a secure and stable place to live!
We are so grateful for all of the people who make it possible to strive toward our vision of a world where everyone has a decent place to live.
Our volunteers offer their time and energy so families can have the opportunity for a better life. Our generous donors lift the community around them with their financial contributions. Our staff and AmeriCorps members work tirelessly on the site, in our offices, and in partnership with other community organizations. Together, we help families achieve the strength, stability, and self-reliance they need to build better lives for themselves.
So what does it take to build a Habitat house? It takes every one of these things – and you!