Homeowner Profile: Meet Charlene
For Charlene Edmond, the opportunity to become a homeowner is a dream come true. She has spent her life serving her country and her family and now she's ready to take some time for herself.
After retiring from the Department of the Treasury, serving in the US ARMY, and traveling all around the world, Charlene found herself as the primary caregiver for both her Grandmother and Father, whom each suffered from dementia. Not long after that, her only child followed in Charlene's footsteps and also became a soldier. Charlene again became a caregiver, this time for her school-age grandchildren. While her daughter served her country in Iraq in 2007 and in Afghanistan in 2010, Charlene held down the fort and was the support system for her family.
In 2013, Charlene traveled to Florida for a Christmas visit. She loved it and, two months later, packed up a UHaul and moved to Atlantic Beach. The past several years haven't been easy, however. Charlene found herself struggling, both with paying high rent and her physical health. The rent on her current home takes up a whopping 80% of her income and the two-story design doesn't serve her well. After suffering a stroke and two heart attacks, climbing up and down steps several times a day is a struggle.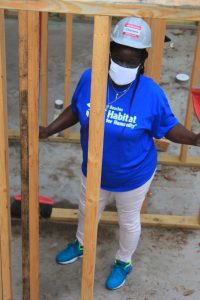 Fortunately for Charlene, an opportunity was waiting around the corner! By luck, she discovered that a new neighborhood being built on Mayport road was a project of Beaches Habitat for Humanity. She did a little investigating and decided to apply for a home. It took some time to complete the process, but Charlene was eventually notified that she was approved for a two-story home in the community on Mayport Road, called OceanGate.
As her health continued to be an issue, Charlene was concerned about the two-story plan of the townhomes in OceanGate and worried that she was taking an opportunity away from another family who could better utilize the space. She took her concerns to the Family Services Director at Beaches Habitat, Joyce Freeman. A short time later, Joyce told Charlene that Beaches Habitat was planning to begin construction on another neighborhood after OceanGate was complete. It would take some time, but if she was willing to wait, Charlene would be able to purchase a single-story home. No more stairs!
When she heard the news, Charlene was overjoyed that she would finally be a homeowner. Even better, her new home will be in the beach community that she loves. Charlene enjoys the friendliness of the beach community and is thrilled to be close to the ocean, a source of great peace and comfort for her.
She says becoming a homeowner is a great personal accomplishment and she is delighted that she will have such a wonderful home to leave to her grandchildren many years from now. The financial relief of an affordable home will also grant Charlene the opportunity to invest more in her grandchildren's schooling, something that is not possible with her current financial situation.
A gardening enthusiast, Charlene hopes to have space in the backyard for her own garden. She even looks forward to working with her new neighbors to help them start their own gardens. She hopes adding gardens and flowers in the neighborhood front yards can add some beautiful extra curb appeal.
For Charlene, it has been a long time coming, but she could not be more grateful for the opportunity of becoming a homeowner through Beaches Habitat for Humanity. To learn more about affordable homeownership at Beaches Habitat, visit www.beacheshabitat.org/get-help/.