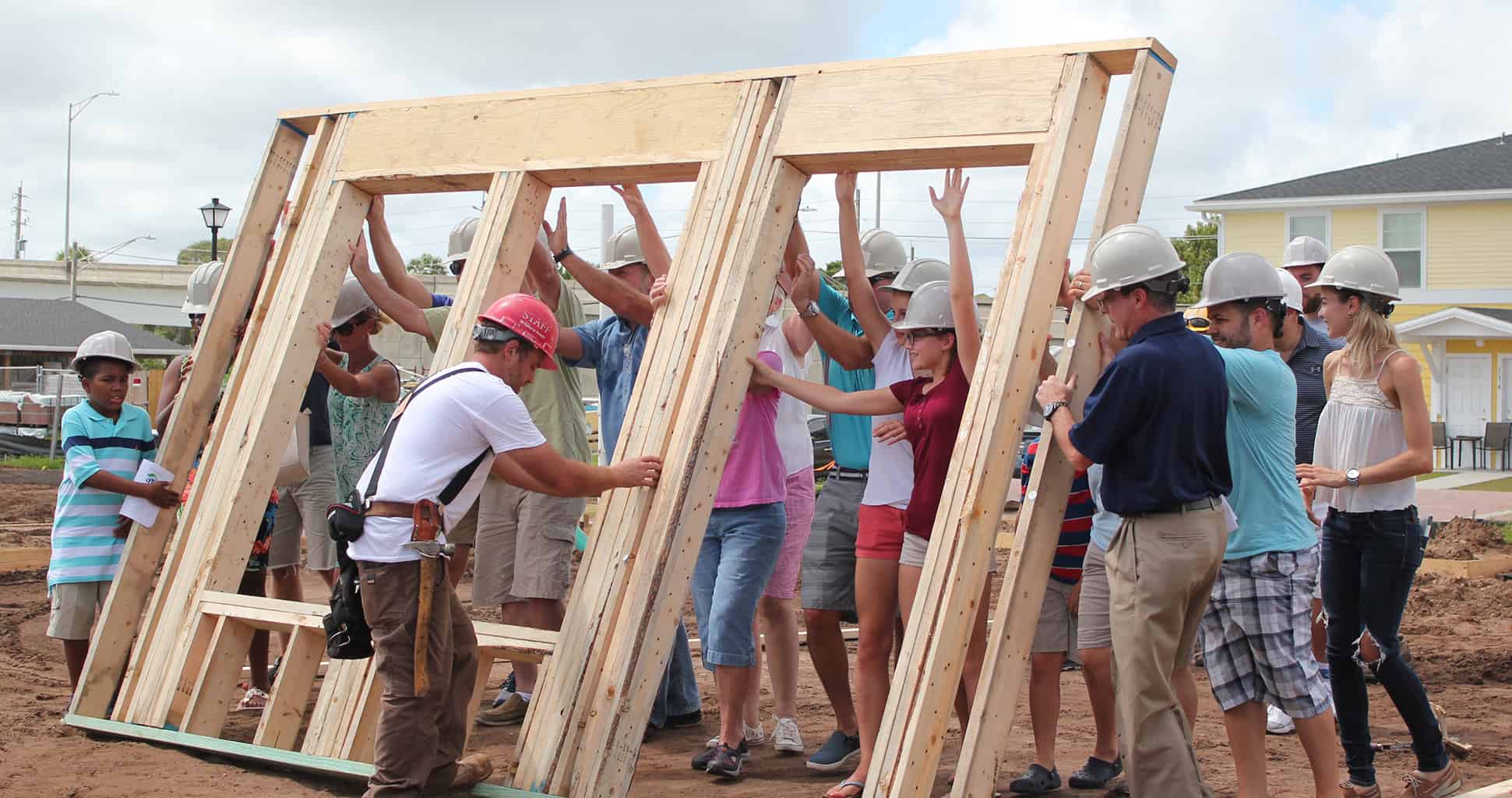 every faith
can be put into action
What is Faith Build?
As people of faith, we are called to respond to our neighbors' needs, acting as God's hands and feet in service to our community. Faith Build is an opportunity for people of faith to come together to actively participate in doing God's work in the world by helping people build better futures for themselves and their families.
Faith Build can be tailored to the mission, strength, and interests of each congregation that chooses to partner with Beaches Habitat. Whether you prefer to swing a hammer, make a financial contribution or prepare a meal, Beaches Habitat will work with you to find the opportunity that fits you best.
Why Faith Build?
Faith is foundational to Habitat for Humanity's mission: Seeking to put God's love into action, Habitat for Humanity brings people together to build homes, communities, and hope.
The process of bringing people together to expand decent housing sparks change, so we joyfully invite supporters, employees, advocates, and partners of all backgrounds – of all faiths and no faith – to our work. Coming together with our friends and neighbors to change their housing circumstances is a demonstration of our Christian values.
How Does it Work?
As a complete, start-to-finish home construction project, the Faith Build at Beaches Habitat is a flexible, ongoing opportunity to put your faith into action while also connecting with others and learning about construction. Sponsorships and donations help to defray the cost of construction, however, a financial contribution is not required to participate. Volunteer opportunities for individuals and groups will begin in September.
Build
Join us on the build site. Interfaith opportunities will be on Tuesday, Thursday, and Saturday mornings. You can reserve a group opportunity or sign up as an individual. Volunteers, age 18 and older, are welcome. Limited opportunities are available for 16- and 17-year old volunteers.
Time Commitment: 4 hours
Meal Crew
After 4 hours of construction work, volunteers get hungry! Join the crew on site by providing a post-shift meal. You can serve the meal at the construction site or make bagged lunches for volunteers to take with them at the end of the day. Volunteers must be 16 or older to be present on site.
Time Commitment: varies
Welcoming Committee
Congratulate the new homeowners by making "welcome home" cards to be presented at their dedication ceremony. This is a great way to get younger volunteers involved! We can share the names and ages of family members with you so you can personalize the cards. Create your own design or use our template.
Time Commitment: varies
Ground Breaking Ceremony
Join us as we bless and break ground on the home. You can lead a blessing or attend the ceremony as a guest. All are welcome!
Saturday, July 29, 2023
4558 Ribault Park Street
Jacksonville, FL 32233
Time Commitment: 1 hour
Daily Devotion
Each morning, we begin our work day with a prayer. We invite you to join us to lead our morning devotion before our volunteers start work on the homes.
Time Commitment: 1/2 hour
Spread the Word
Let the members of your congregation know about the work of Beaches Habitat by posting flyers or sharing information at your events and services. Our staff is also available for speaking engagements and service fairs.
Time Commitment: It's up to you!
Dedication Ceremony
Just before a family closes on the mortgage for their new home, we bring the community together one last time. Through prayer, song, and celebration, we'll welcome the families into their new home with the help of the volunteers and supporters who made its construction possible. Lead a blessing, speak about your experience or present a gift to the homeowners.
Date TBD
Notifications will be sent 3 to 4 weeks in advance.
Time Commitment: 1 hour
Host a Fundraiser
If a full sponsorship isn't an option for your community, consider hosting a fundraiser. You can challenge your staff, small groups or other members of your community to help raise funds to support the construction of the homes. From spaghetti dinners to penny drives, you can customize a fundraiser that's right for your congregation.
Time Commitment: It's up to you!