Homeowner Profile: Meet Larisha
It's been a long, bumpy road for Larisha Williams, one that she's still walking. With five children and a granddaughter, she started the homeowner process with Beaches Habitat in 2014 and applied for a 5-bedroom home. Although she was approved, that happened around the time Beaches Habitat began working on the 70-unit Ocean Gate project, where the largest units had only three bedrooms. It took her only six months to complete most of the required sweat equity, painting and shingling even though she didn't know when her home would be available.
Much has happened during those five years Larisha has been waiting. Between 2014 and 2017, she moved three times—a tremendous upheaval, especially for a single mom. Her daughter and granddaughter moved out and now live independently, leaving four children ranging in age from 2 to 16 still at home.
Larisha is used to adversity and persistence. She graduated from an Advance Career Training medical assistant program in 2009 but was unable to find work in that field, so she continued working as a home health aide. In 2015, she took a job in an assisted living facility and, recently, found a part-time job as a medical assistant.
For the past two years, her youngest son, 8-year-old Antione, has been asking, "When are we going to move?" All this might beat down some people, but this woman has hope, a big smile, and a sign above her kitchen stove: "Home is Where Our Family Gathers."
"To me, a Habitat house represents stability," she says. And now that Beaches Habitat is scheduled to start building, that's something she'll finally have.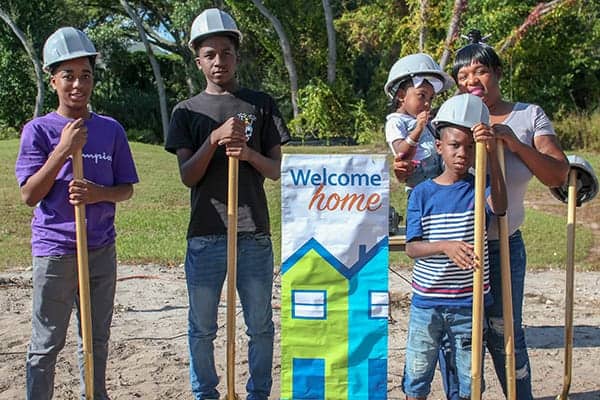 Written by Pat Rakowski