Three mornings a week, without fail, Women Build at Beaches Habitat brings strangers and friends together. They are connected to one another, all working toward the same goal: to build homes for those in need of affordable housing. For 4 hours each morning, the group takes on construction tasks that can include everything from building walls to shingling the roof to painting the interior walls. The group is briefed on the skills, then sets out to accomplish their goal. The Women Build is a great way to meet other women, learn building skills, and have a fulfilling experience while giving back to the community.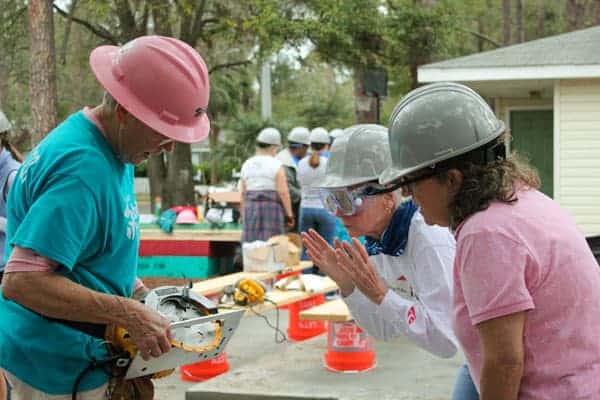 Why Women Build?
Women Build is empowering for the ladies who dedicate their time and talent. Whether you come for the first time or participate every week, the encouragement is infectious. Completing construction tasks that are generally thought of as men's work, rewards women with confidence. Beaches Habitat's mission cannot be executed without its volunteers which provide the teamwork to turn an empty lot into a home.
Joyce Daugherty is a regular builder and has volunteered across the world for Habitat International. When asked about her countless experiences at the Women Build, she says "Essentially we are a family of women. We include our home-owner-to-be in our family." The reward of building for others lasts a lifetime.
The Habitat Model
After being selected, future homeowners are required to put 'sweat equity' into constructing their future home and the homes of others. At Beaches Habitat, homeowners become close to the volunteers working alongside them. Daugherty emphasized, "Wherever I am in the world I delight working here with women at Habitat for Humanity… and all the things I have learned how to do."
Get Involved
If you're interested in participating in Women Build, be sure to sign up for Women Build emails!